"DID WE MENTION ROCKS ?!"
* * * * * * * * * *

SUGARBUSH, VERMONT
CASTLEROCK

SKIER WARNING SIGN

* * * * * * * * * *
Get your own exact replica of this well know sign.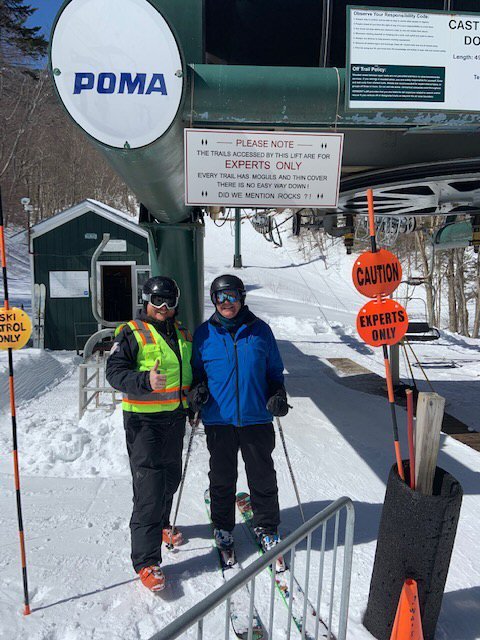 March 2019

B.H. Davis (in the blue coat) with Colin who is head of the Sugarbush Ski Patrol.

We are standing below the newly installed Castlerock experts only sign located at the
entry to the Castlerock chair, Sugarbush, VT.

The engraved PVC sign was made by B.H. Davis and given
to Sugarbush in March of 2019.

Approx. 14" x 31" replicas of the sign are available for purchase.
Email BH Davis with questions and/or for ordering.
bhdavis @ charter (dot) net


---


(For a better view of the carving details CLICK HERE to download a high resolution version of the photo.)

14.5" x 31.5" version
Castlerock EXPERTS ONLY warning sign.

* * * * *

$145.00 plus shipping.


(Typical UPS rate is in the $12 to $20 range for shipping to New England locations.)



---
This is an exact duplicate of the CASTLEROCK warning sign hanging at the base of the
Castlerock lift at Sugarbush Resort in Warren, VT. In the above photo you can see me in the
blue coat standing along with Sugarbush Ski Patrol director Collin Cascadden
below the newly installed sign.


I can say it is an exact duplicate because I made and gave these signs to the resort.
There are currently three of them: one sized at 18" x 39.5" and two at 14-1/4" x 31".

The sign available here is the 14-1/4" x 31" version. I can also make the full sized
version of the sign on a custom order basis. I have been granted permission from
the mountain operations office to continue to make and sell these signs


I made these rather famous warning signs as a thank you to Sugarbush for their great 65 and over
Boomer pass program. My wife and I are in this age bracket and are regular skiers at Sugarbush.
I thought new Castlerock signs would be a great way to show our appreciation plus
also be a lot of fun to see every time we skied at or by the Castlerock lift.


The signs are made from solid PVC with engraved letters painted with exterior PVC coatings.
As such they can be hung indoors or out. The engraved lettering makes for
a stunning presentation and long life for the red and black paint.


If you are a Sugarbush skier you know this sign. I had made a number of smaller versions as gifts
which can be found in condos of our friends around the valley. I'm now making them in this
larger 14-1/4" x 31" size so people can have the exact same sign that is hanging on the Castlerock lift.


Before the sale of my company and subsequent retirement I spent 25 years building up a national level
woodworking business that made curved mouldings (www.curvedmouldings.com). I have brought that same
attention to detail to my home retirement shop for the making of these Castlerock signs.


I usually have a few of the signs on the shelf ready to ship. If not then I will set up to make
another one and ship it within one to two weeks. For those who want the larger 18" x 39.5" trail side
version of the sign that would be made to order also with an estimated shipping time of one to two weeks.
The larger version would cost $225.00 plus shipping.

---




How It's Made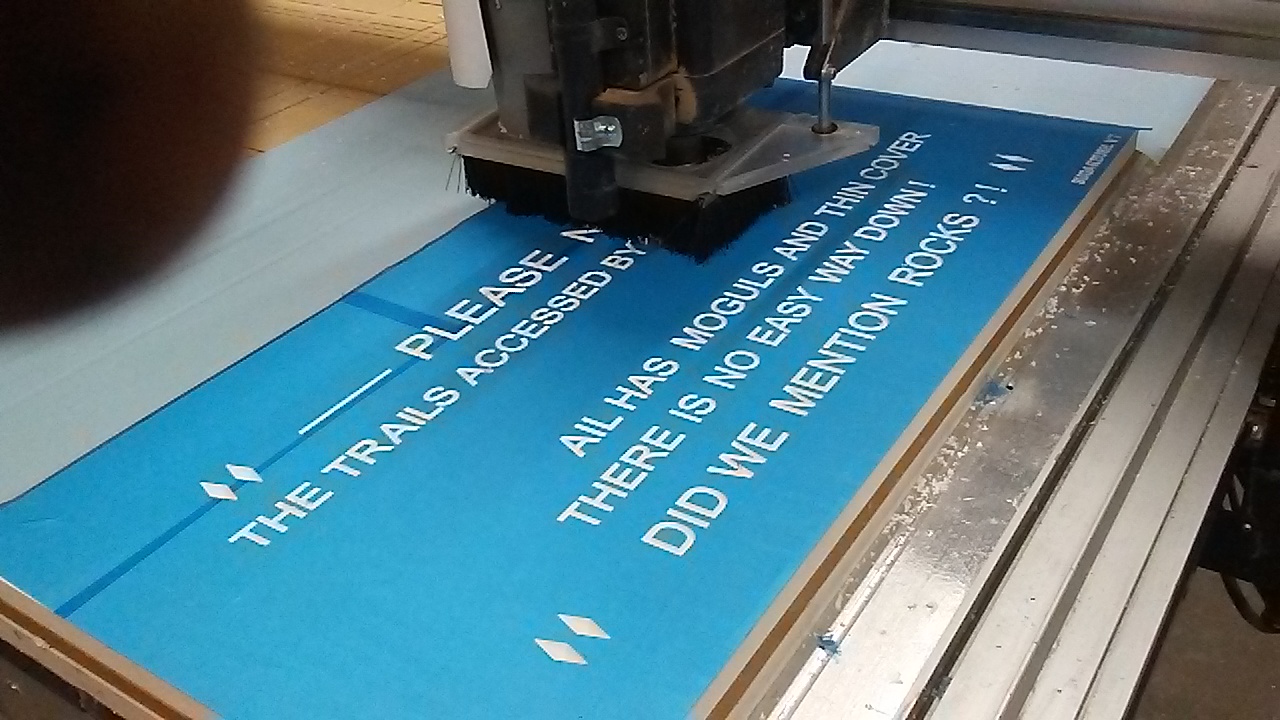 Here the white PVC blank has been covered with
a blue paint mask prior to being carved on the
CNC (computer controlled) router. The CNC then
carves all the graphics and letters exactly as they
had been drawn on the computer in AutoCAD.

* * * * * * * * * *
Click HERE to see a short video of the sign being carved.
(Note: 30 to 60 second download.)

* * * * * * * * * *



After carving the signs are ready to paint. There are fewer
red areas so they get painted first. Then all those red
sections get masked off and the black paint is applied.

* * * * * * * * * *




Here is the sign after the paint mask has been removed
and touch up removal of excess paint has been
completed. Next up will be cutting he sign to final
size and then some sanding of the PVC prior to packaging.


---


March 2021

Another one of the signs hung at the Lower Downspout
drop down to the Castlerock Lift







And finally here I am standing by my sign
at the Lower Downspout access to the Castlerock Lift.